Buy Chips and Salsa Online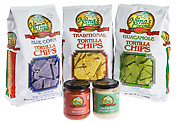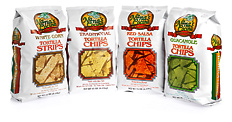 ORDER ABUELITA'S NEW NANA'S COCINA BRAND CHIPS AND SALSA PARTY PACK TODAY!
Everyone loves chips and dips for party gatherings, ball games, family reunions, vacations and more.
With the NEW Abuelita Party Pack Online Service, we now offer our authentic Mexican chips and salsa recipes in a variety of combinations and choices and ship them directly to your door.
TRY OUR CHIPS AND SALSA
There's a big difference between Abuelita's freshly cooked chips and store-bought chips…you'll taste the difference with every bite. Abuelita chips are cooked fresh daily and shipped directly from our facility. Our salsas are carefully blended with fresh herbs, spices and natural ingredients to compliment the taste of our chips.
Nana's Cocina fine, handcrafted, authentic Mexican recipes are so mouth-watering, they'll be the hit of your party! And remember, "It's not a party until Nana arrives!".
Don't waste your time driving and waiting in line to buy your basic chips and dips. Order online today and provide your guests with fresh, authentic chips and salsas from Abuelita.
Orders will be processed the next business day. For more information call 703-369-1730 or email office@abuelita.com